This class is now CLOSED
INTERACTIVE ISLAMIC CLASSES
FOR TEENAGERS AGED 15+
SEGREGATED ROOMS
FOR BOYS AND GIRLS
FACILITATED BY SHAYKH AHMED ABDO
EVERY THURSDAY 6:00PM TO 6:45PM
STARTS 14 FEBRUARY 2019
8 WEEK PILOT PROGRAM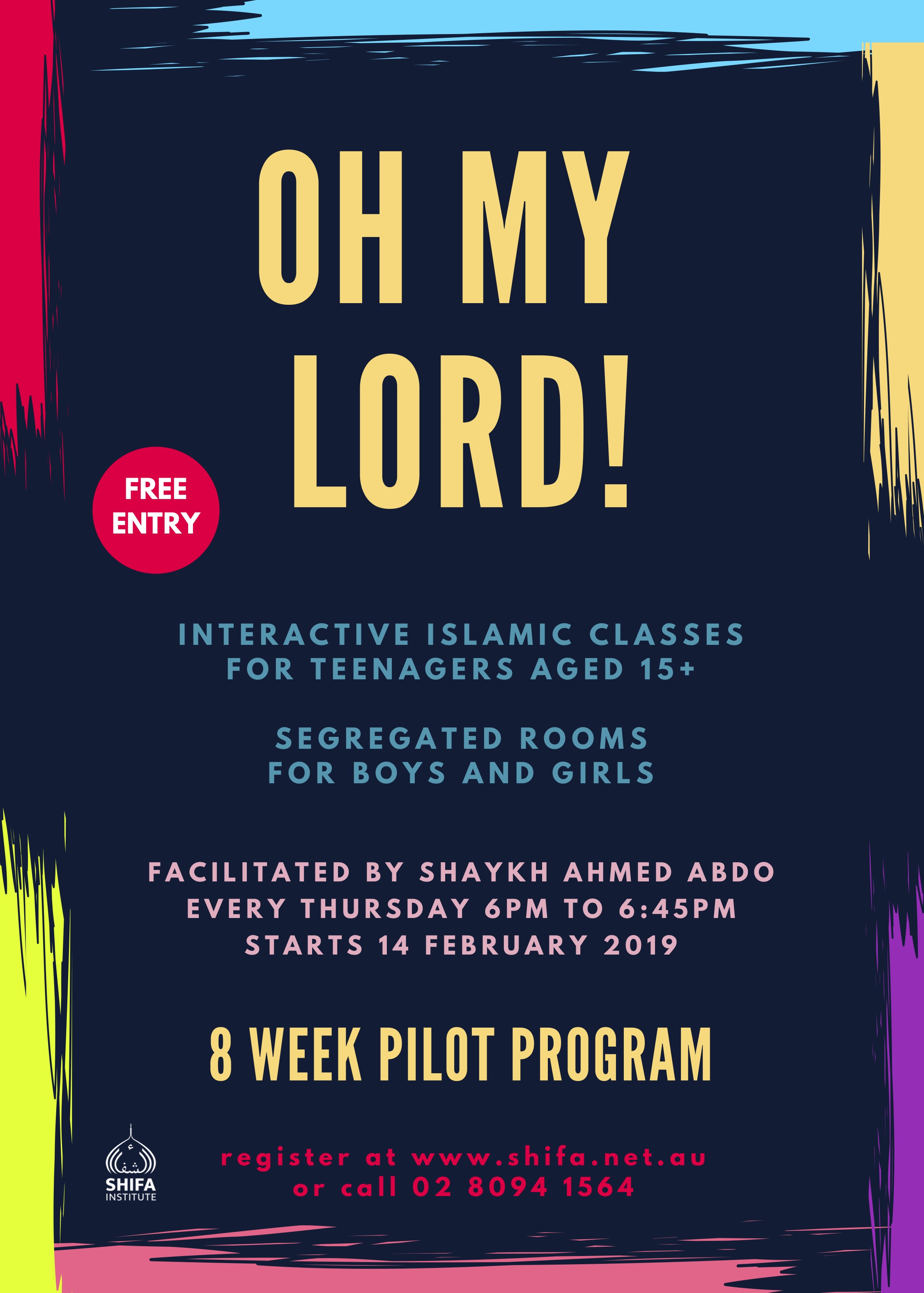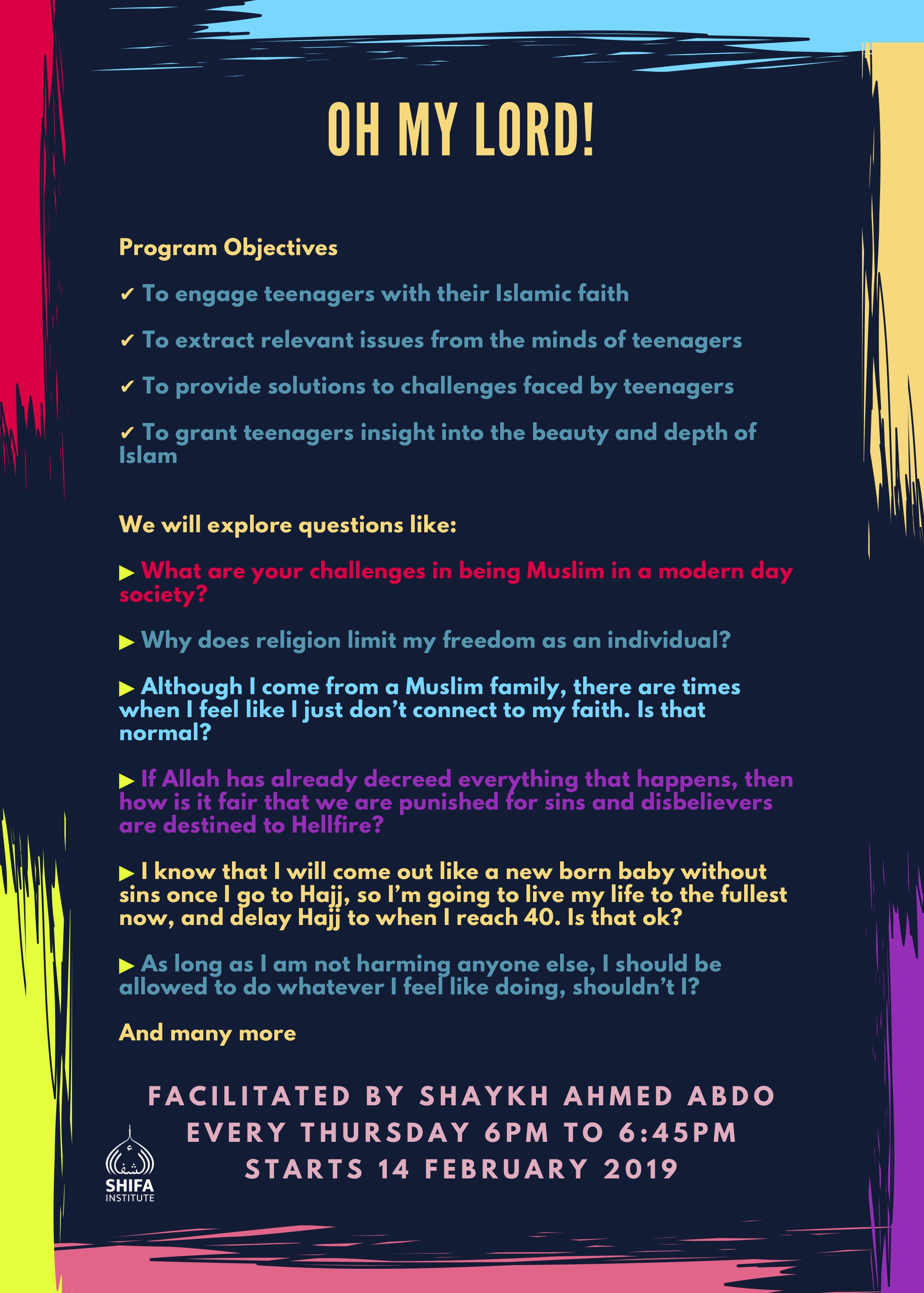 Program Objectives
✔︎ To engage teenagers with their Islamic faith
✔︎ To extract relevant issues from the minds of teenagers
✔︎ To provide solutions to challenges faced by teenagers
✔︎ To grant teenagers insight into the beauty and depth of Islam
Questions we will cover:
▶︎ What are your challenges in being Muslim in a modern day society?
▶︎ Why does religion limit my freedom as an individual?
▶︎ Although I come from a Muslim family, there are times when I feel like I just don't connect to my faith. Is that normal?
▶︎ If Allah has already decreed everything that happens, then how is it fair that we are punished for sins and disbelievers are destined to Hellfire?
▶︎ I know that I will come out like a new born baby without sins once I go to Hajj, so I'm going to live my life to the fullest now, and delay Hajj to when I reach 40. Is […]
Our 3rd Annual Youth Camp is the perfect Summer Holiday activity for your child where they will have lots of fun, as well as learn so much about their own identity, make superb friends, and have an absolute blast!
In a supportive Islamic environment, with both male and female Islamic scholars and teachers ready to guide and mentor your child through their life's journey. Our QUL College senior teaching team of:
Shaykh Ahmed Abdo
Ustadha Genan Dadoun
Shaykh Omar Habbouche
Ustadha Feda Abdo
will be in attendance and offering Islamic lessons, classes and helping your son or daughter navigate their living as a confident young Muslim in a western society.
Shifa Institute is dedicated to bringing youth together in a positive and encouraging environment. As part of our programs, we would like to invite you to apply to have your child attend our 3rd Annual Family Camp over 4 days and 3 nights, from Friday 18th January 2019 to Monday 21st January 2019.
Registrations have now CLOSED.
Youth Camp 2019 Conditions
APPLICATION PROCESS
You must submit an application form, then pay a $150 deposit for each child.

Your application submission and deposit payment does not necessarily guarantee your child's place on camp. Shifa Institute reserves […]

The Virtues Conference
The month of Rabi' al-Awwal is the time in which the beloved Prophet Muhammad (peace be upon him) manifested onto this earth. His birth and life are celebrated by the entire universe, in every single moment.
The Virtues Conference is our attempt to bring his noble virtues to the forefront of our minds, be inspired, and emulate the best of examples which he left for us.
Join us on Sunday 25 November 2018 for a special one-day conference event from 10am to 4:30pm where you will be immersed in inspiring topics including:
The Love, Mercy and Compassion of the Prophet Muhammad
The Patience and Resilience of the Prophet Muhammad
Finding and Connecting with the Prophet Muhammad
Our speakers on the day include:
Shaykh Qasim Hatem (USA)*
Shaykh Omar Habbouche
Shaykh Ahmed Abdo
and others to be announced
Venue: Novotel Parramatta, 350 Church St Parramatta
Cost: $50 per person, includes coffee and lunch
For more information call 02 8094 1564
* Shaykh Qasim Hatem's Biography
Shaykh Qasim Hatem was born in […]
A family camp in a safe and encouraging environment for mums, dads, grandparents, and children!
Shifa Institute is dedicated to bringing families together in a positive and encouraging environment. As part of our programs, we would like to invite you to apply to attend our 2nd Annual Family Camp over 4 days and 3 nights, from the 11th to 14th October 2018.
Fill in the registration form and follow the instructions below to secure your place! Registrations are NOW OPEN.
Nightly Ramadan Taraweeh Program for 2018 at Sir Joseph Banks High School
Starts 7pm each night of Ramadan. Due to limited space, we would appreciate if you could register your attendance here.
window.EBWidgets.createWidget({ // Required widgetType: 'checkout', eventId: '46007094458', iframeContainerId: 'eventbrite-widget-container-46007094458',
// Optional iframeContainerHeight: 425, // Widget height in pixels. Defaults to a minimum of 425px if not provided onOrderComplete: exampleCallback // Method called when an order has successfully completed });